RO Water Resources, LLC offers 150,000 gallon storage capacity with 30,000 gallon cone bottom tank and twin flat bottom PVDF lined 30,000 gallon tanks.  We have a total of ten  storage tanks in our process.
 We can pump DI water and fill a 5500 gallon trailer in 45 minutes
We can meter any volume of DI water to any trailer, tank, and tote.
All DI water is passed through ultraviolet light and final filtration
We have a polishing mixed bed to meet high purity ultrapure water requests as special projects.
We have three conductivity/Resistivity instruments to measure the quality of our water prior to loading on the filling station prior to loading and throughout the facility.
We provide a detailed bill of landing for a new customer.  This document is sent out with every load for tracking purposes.
We provide a certificate of analysis with each load of DI water leaving this plant.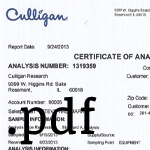 Certificate of Analysis